From my heart, I want to share the direction of my thoughts for Mother's Day this year. My thoughts are heavy as I think of mothers and children that are separated from one another. The separation can be because of death, incarceration, lost custody, deployment, addiction, adoption, and many other reasons.
My dear mother passed away in January of this year. Tears come often during the days and weeks that have followed. I miss her very much. I live in her home for now, which is also my childhood home, so memories are everywhere – precious memories. Mother's Day is now here, the first special day without my mother, and it feels rather empty, even though I am a mother, and one of my daughters is a mother. This feeling of emptiness is normal, I know. My father passed away over 10 years ago, and I have lived through the years with special days without the earthly presence of my dear dad.
Yet, I am crying as I think on how much I miss my mother, and it hurts to be separated. So what to do? What salve is there for a hurting heart on Mother's Day? The grief can be so deep and overwhelming – but I know, YES I KNOW, that I can find hope and comfort, and answers in the Word of God. I know that the scriptures are the place to turn to find concrete, confirming truths in what is good and what is right. That my tears are acknowledged, and that Jesus loves me, loves my mother, loves my children and grandchildren, and no matter the reason for our separation from each other, Jesus loves, Jesus cares, Jesus lives!
Below are Bible verses that I hope will give you strength and comfort and joy! Please pray for the women who are at the Wings of God home. All who currently reside at the home are mothers – separated for many different reasons from their children. There are 10 children represented by these four women. Please pray for these precious children.
Susan Rall, Marketing Glory Assistant, Wings of God Transition Home for Women. 
Psalm 56:8
Record my misery;
list my tears on your scroll —
are they not in your record?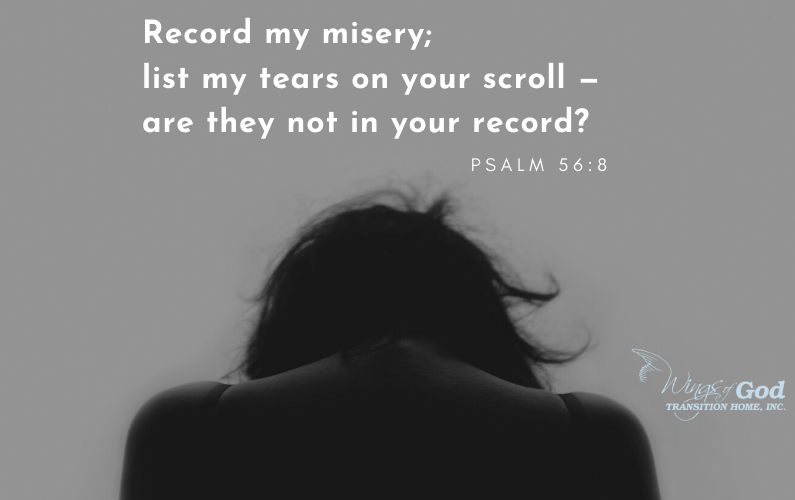 Isaiah 61:3 
..and provide for those who grieve in Zion—
to bestow on them a crown of beauty
instead of ashes,
the oil of joy
instead of mourning,
and a garment of praise
instead of a spirit of despair.
They will be called oaks of righteousness,
a planting of the Lord
for the display of his splendor.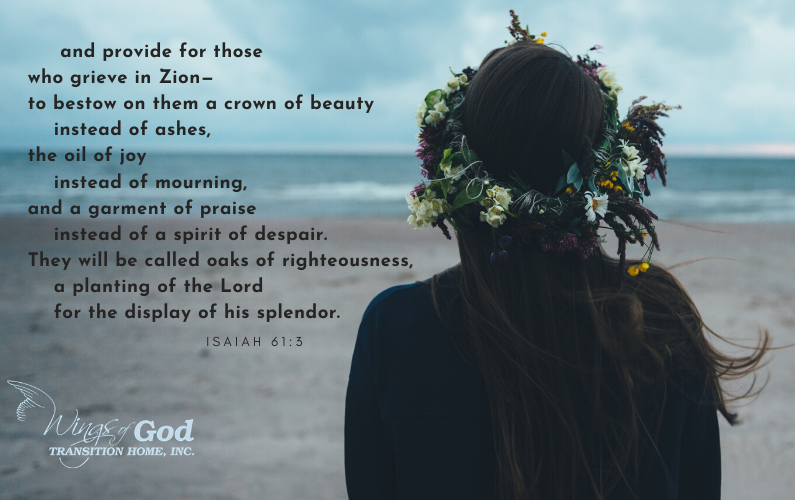 Philippians 1:6
Being confident of this, that he who began a good work in you will carry it on to completion until the day of Christ Jesus.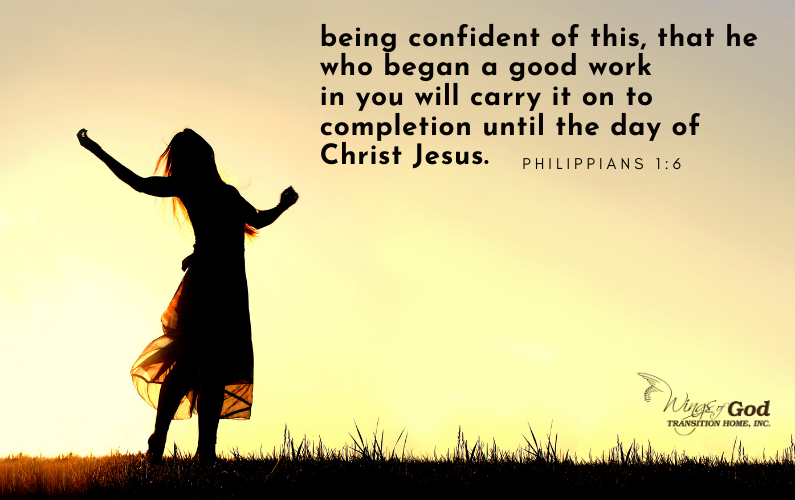 Philippians 4:11–13
11 I am not saying this because I am in need, for I have learned to be content whatever the circumstances. 12 I know what it is to be in need, and I know what it is to have plenty. I have learned the secret of being content in any and every situation, whether well fed or hungry, whether living in plenty or in want. 13 I can do all this through him who gives me strength.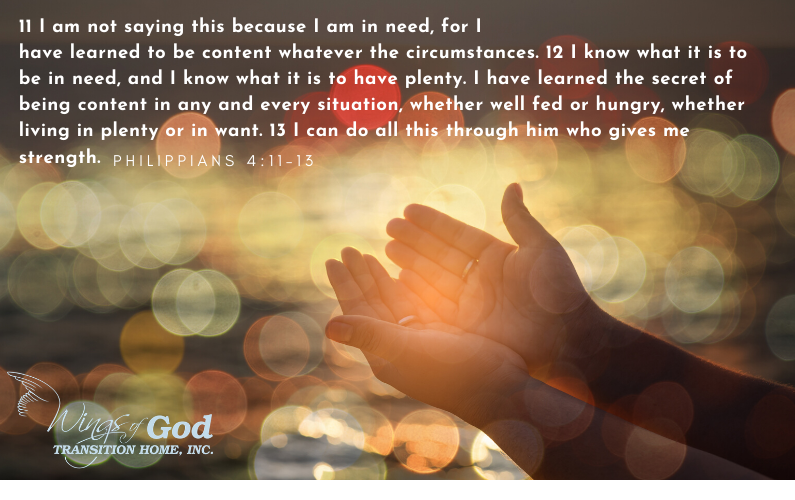 3 John 4
I have no greater joy than to hear that my children are walking in the truth.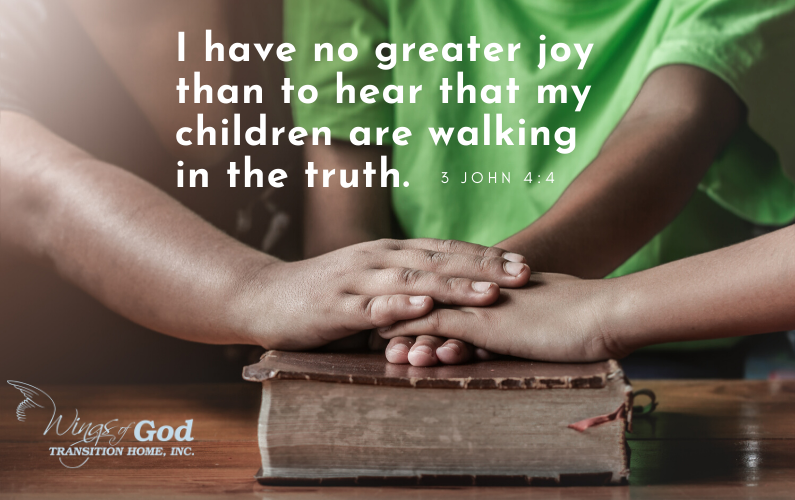 Psalm 145:18
The Lord is near to all who call on him, to all who call on him in truth.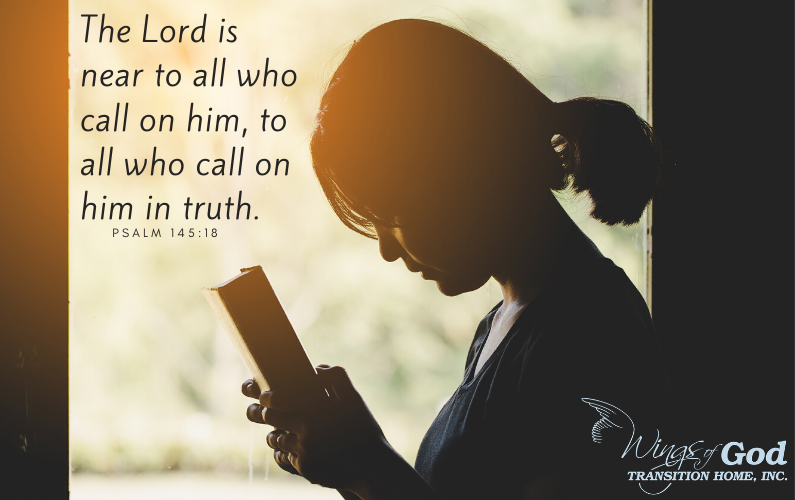 Hebrews 12:2-3
fixing our eyes on Jesus, the author and perfecter of faith, who for the joy set before Him endured the cross, despising the shame, and has sat down at the right hand of the throne of God. For consider Him who has endured such hostility by sinners against Himself, so that you will not grow weary and lose heart.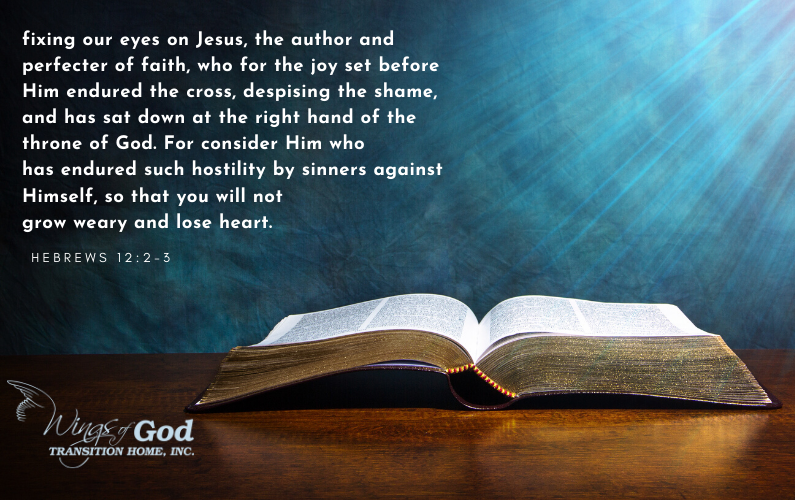 Psalm 55:22
Cast your cares on the Lord and he will sustain you; he will never let the righteous be shaken.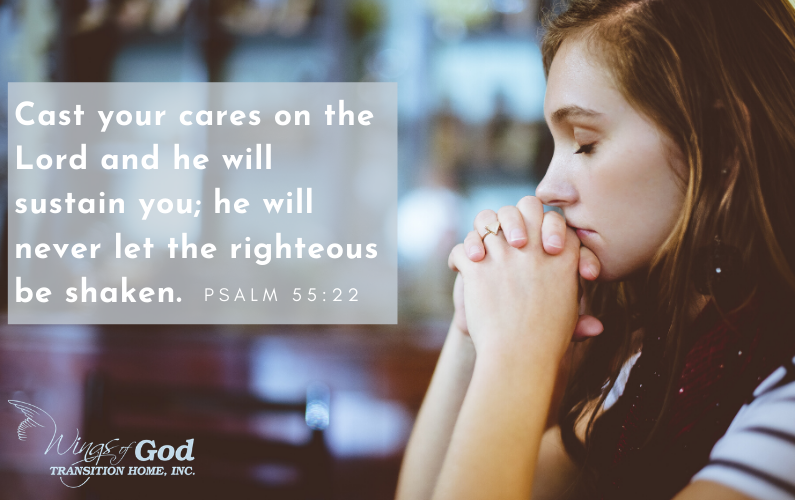 Philippians 4:8
Finally, brothers and sisters, whatever is true, whatever is noble, whatever is right, whatever is pure, whatever is lovely, whatever is admirable—if anything is excellent or praiseworthy—think about such things.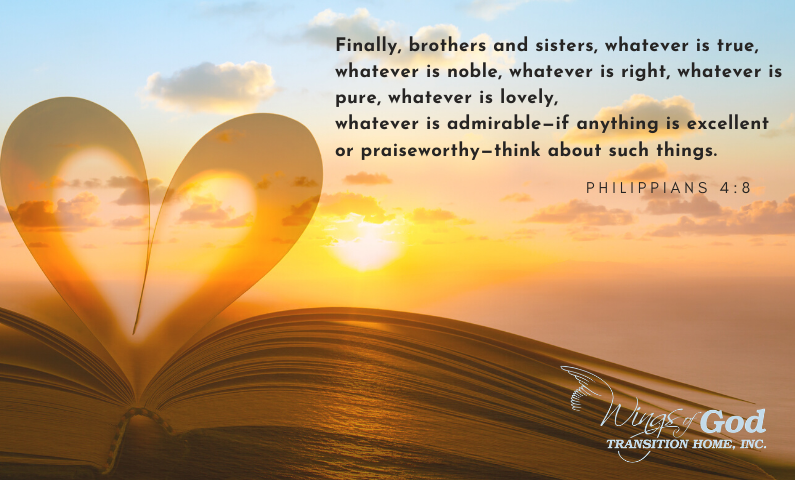 WINGS OF GOD TRANSITION HOME: Our priority is to introduce our residents to the saving knowledge of Jesus Christ and disciple them in the word of God. We provide these women with a stable environment from which they may gain knowledge, skills, mentoring, and counseling. We ask for a minimum stay of at least one year, so upon graduation they are prepared to lead healthy, productive, spirit-filled lives.  Wings of God Transition home is located in Paw Paw, Michigan. If you would like to know more, volunteer, or support this mission, please contact us at 269.415.0777 or email [email protected].