Friday, June 17 & Saturday, June 18, 2022
Join us for our 4th Annual Pledge for Pearls! This amazing event raises funds to support Wings of God Transition Homes in Paw Paw, MI. On Friday, June 17th and Saturday, June 18th from 8:00 a.m. to 1:00 p.m., Wings of God volunteers will be blanketing the streets of Paw Paw collecting money in support of women who are seeking positive change and leaving behind lives of addiction, crime, and despair.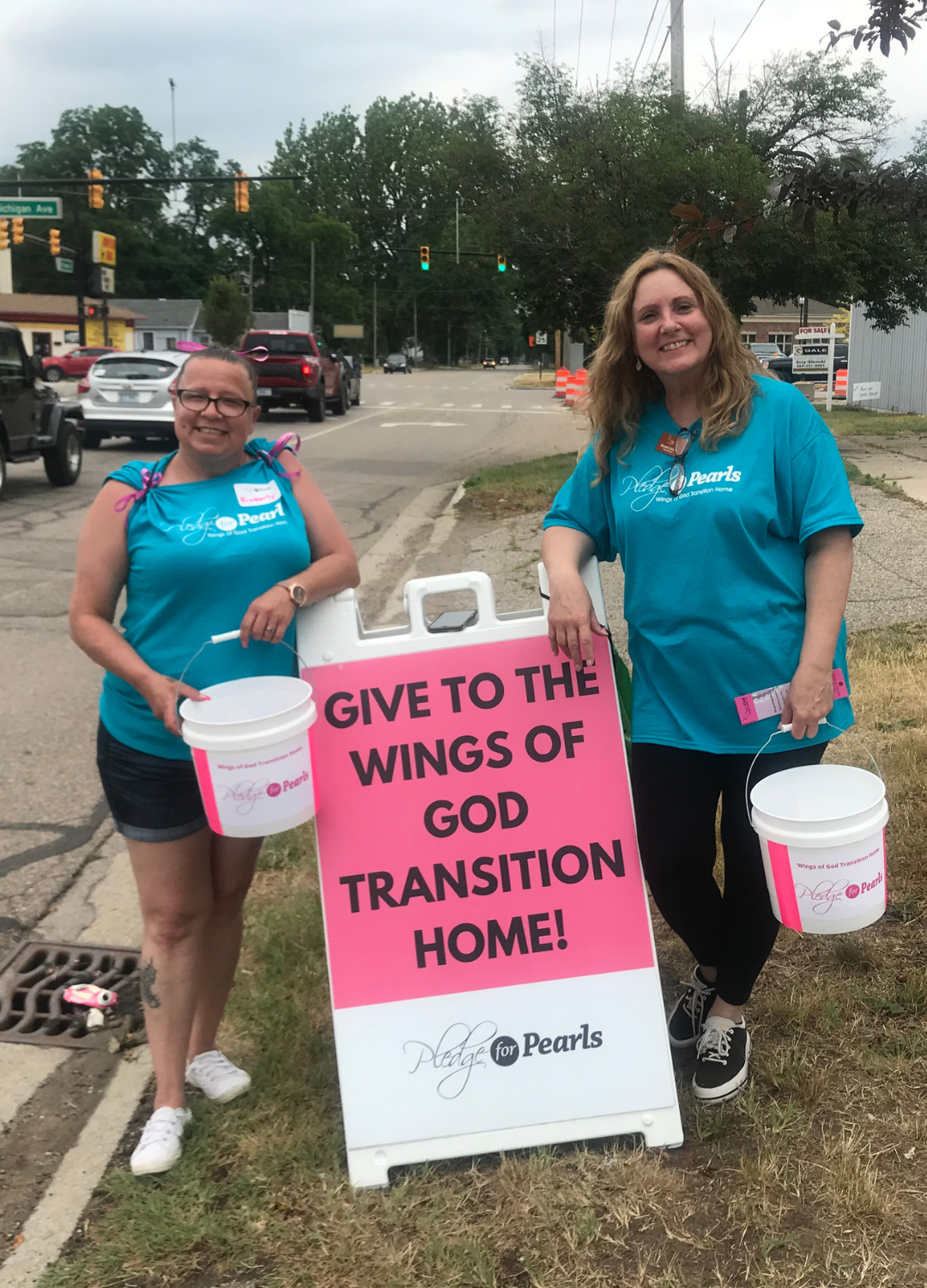 Be a Bucket Brigade Volunteer! 
Be prepared to have fun and be amazed at the generosity of your community!
Volunteers sign up for a two hour shift and will be stationed around downtown Paw Paw. You can sign up as a family, a group, or we will match you with another enthusiastic volunteer. 
Giving Options beyond the Bucket!
Give Online: E-Service Online Donation
Venmo, Paypal, Apple Pay, Digital Wallet (Through Givebutter): 
givebutter.com/PledgeforPearls2022
Credit or debit card by phone: please call us at 269.415.0777
By Check: Check payable to Wings of God Transition Home (memo: Pledge for Pearls)
Mail to P.O. Box 3, Paw Paw, MI 49079
Do you own or work for a business that would be willing to sponsor us, or would you like to be a personal sponsor? We would love to partner with you! All sponsor businesses will have their name printed on the back of over 100 volunteer t-shirts, Facebook recognition, and the satisfaction of knowing that you have made a difference in the lives of these special women. Click the SPONSOR button for the sponsorship form or Call Karina at 269.415.0777 for more information. 
Event Sponsor Levels: 
Platinum ($1,000 or more) Gold ($500-999) Silver ($100-499)
THANK YOU 2022 SPONSORS!
We are so grateful for the loving support from our Sponsors for Pledge for Pearls!
PLATINUM SPONSORS
Barber Packaging Company
Senator Aric Nesbitt
GOLD SPONSORS
Rendon & Sons Machining

Denise Kuipers, CPA
Decatur Republican
William & Leslie Buhl
Ralph Moyle, Inc
Barber Diversified, LLC
Shephard Body Shop
SILVER SPONSORS

Edward Jones – Grace Grant
Great Lakes Belting & Supply
La Cantina
Lawson Oil Company
Adams Funeral Home
Gobles/Bangor Veterinary Clinics
Fish Window Cleaning
South Haven Agency, Inc.
Chung's Martial Arts Academy
Van Buren County FOP Lodge 136
Mattawan Mechanical Services
Scott Trucking Service, Inc.
Bloomingdale Communications
Zantello's Interior Care
Rob's Tire & Auto LLC
Hoard Chiropractic
Judge McKay
Pizza Hut – Mattawan
Formula K Equipment, LLC
Gary Stewart, Attorney at Law
Paw Paw Village Drug
Warner Supply Do-It Center
Picket Fence Pottery
Bruce's Truck & Auto
Paw Paw Rentals
A big thank you from all of us at Wings of God Transition Home
for an amazing 2021 Pledge for Pearls Bucket Brigade fundraiser!
We praise God for the needed rain and for the showers of love and support from our community!
Forty-seven wonderful people which included Pearls, staff & volunteers, blanketed the streets of Paw Paw collecting donations in our buckets!
We raised over $27,000! Wow!
"Because you are my help, I sing in the shadow of your wings."
Psalm 63:7